We believe that succession planning is one of the key things that keeps organizations vibrant and healthy. Planning for future personnel changes is a necessary strategic process for workplaces of all sizes. However, many organizations fail to start this process early enough or don't give it the intentional focus it requires.
What is succession planning?
Succession planning is a process for identifying and proactively developing people who can replace existing leaders when they leave or retire. In privately owned businesses, succession planning also needs to consider the transfer of ownership. Planning for the future success of your organization means putting the right people in place who have the necessary abilities and knowledge to champion your culture moving forward. Sometimes those people are current employees you want to develop, but occasionally you need to look outside your organization. In these cases, it's particularly crucial to start the process of planning for the future early.
At ACHIEVE, we believe that succession planning should start with a listening process. By listening, we identify key areas that need to be addressed. That is why our succession planning process includes interviews of key people within the organization, which will be conducted by our consultants. The time it takes to complete the in-person portion of the succession planning process often ranges from one to three days, depending on your context and desired goals.
Here are the typical phases of ACHIEVE's succession planning process:
Phase 1: Identify the goals for succession planning.
Phase 2: Determine who should be interviewed and create a set of interview questions.
Phase 3: Conduct one-on-one interviews with key people in your organization.
Phase 4: Identify themes gathered from the interviews and report them back to you.
Phase 5: Facilitate a succession planning session, ranging from a half-day to a full-day in length.
Phase 6: Draft, revise, and finalize a 7-10-page plan document.
ACHIEVE will adapt the succession planning process to fit your needs. Throughout the process, our consultants will work closely with you to ensure your needs are met and that you have a plan to move into the future with confidence.
Why Choose ACHIEVE Consulting?
Meet the Team
Our Consultants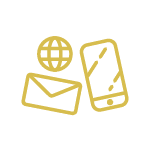 Explore Options

Contact Chantel Runtz, Training Coordinator, to discuss your speaking needs or to receive a detailed quote by email at [email protected] or by phone at 204-789-2457.